The Business of Computer Vision for Customer Analytics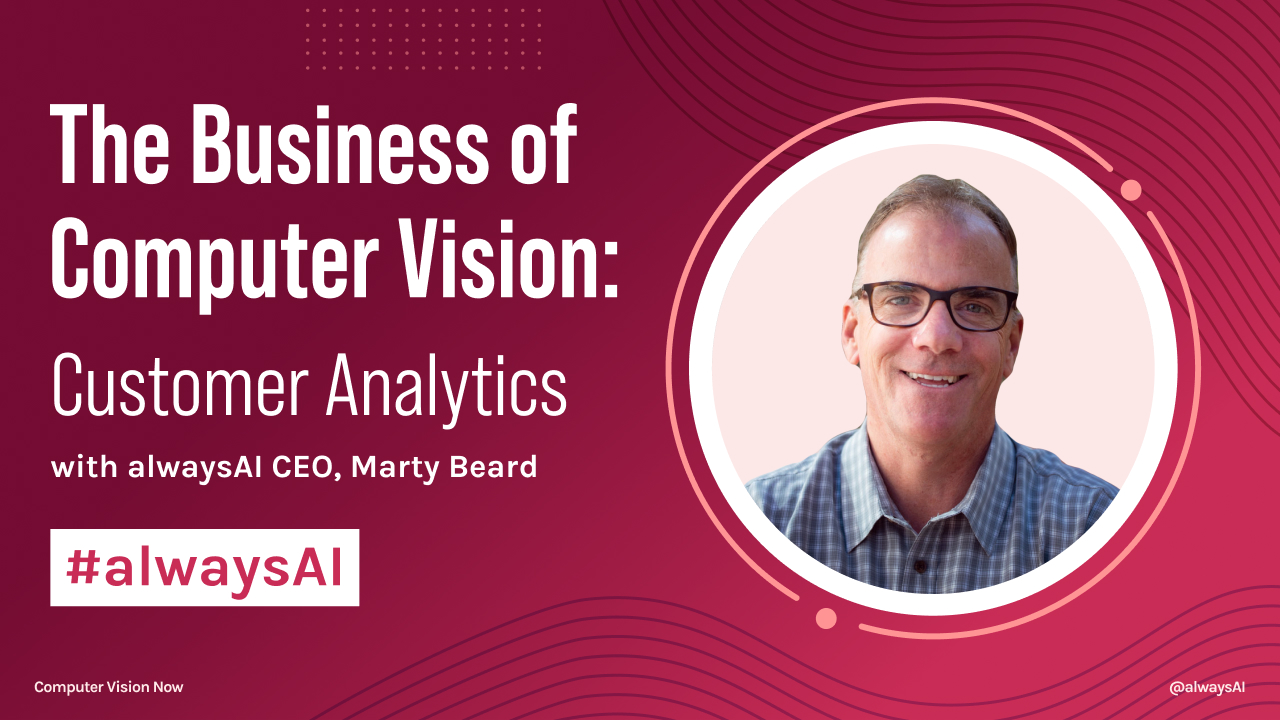 Follow along as alwaysAI CEO, Marty Beard, describes how Computer Vision is enabling enterprises across all industries to gain real-time customer analytics through deep learning computer vision applications.
Who is alwaysAI?
We are a software company completely focused on Computer Vision. Our end-to-end development platform provides enterprises with the tools they need to build, train, and easily deploy and run customized computer vision applications on IoT edge devices. Computer Vision enables machines to be able to see, observe, and interact with their environment. We believe Computer Vision will be one of the largest technology waves, with one of the largest impacts across all industries and we are very excited to be part of it.
Why are we focused on Computer Vision?
In the last 20 years, we've seen the automation of voice and messaging, but now we're moving even closer to truly real-time environment. Sight is starting to get automated! Vision, potentially the strongest and most powerful of all the human senses, is right on the cusp of getting automated and deployed onto the edge where work and life happens.
We've been able to work with amazing enterprises that are really at the forefront of adopting this new technology. It's clearly a horizontal phenomenon. Companies across all industries, from retail to manufacturing, transportation, smart cities, healthcare and robotics. Computer Vision is impacting the entire value chain. Companies across all industries are starting to see Computer Vision as a necessary tool to gain real-time analytics to improve their business, and we're glad to be able to help them.
How is Computer Vision impacting Retail?
Computer Vision enables retailers with the power to learn more about their customers. From where customers go when they first enter the store, to what brands they are most attracted to, retailers gain an understanding in real-time about how to keep customers coming back and improve their customer experience. See below for the following ways Computer Vision empowers retailers:
Brand Preferences
Product Placement
Traffic Flow
Manage & Track Inventory
Track items that have left the store without going through POS

Monitor in-store safety

In-Store Advertising



How Can An Enterprise Get Started Using alwaysAI?
Our platform provides enterprises with the tools they need to build, train, and deploy custom computer vision applications for their use cases. Schedule a demo or sign up for free today to start your computer vision journey and get easy access to our Computer Vision experts. We can't wait to see what you build!
Schedule a demo to talk to our Computer Vision experts about your business, or click here.
Sign up for free to get started, or click here.
See below for the full video, or click here.
---
About alwaysAI
alwaysAI provides developers and enterprises a comprehensive platform for building, deploying and managing computer vision applications on IoT devices. We make computer vision come alive on the edge - where work and life happens. The alwaysAI platform offers a catalog of pre-trained models, a low-code model training toolkit, and a powerful set of APIs to help developers at all levels build and customize CV apps. alwaysAI has an easy deployment process and a state-of-the-art run-time engine to accelerate computer vision apps into production quickly, securely, and affordably.
If you haven't already registered in alwaysAI. Please do so! It's super easy to sign up just follow the link and get building and coding quickly.
Get Started Now
We are providing professional developers with a simple and easy-to-use platform to build and deploy computer vision applications on edge devices.