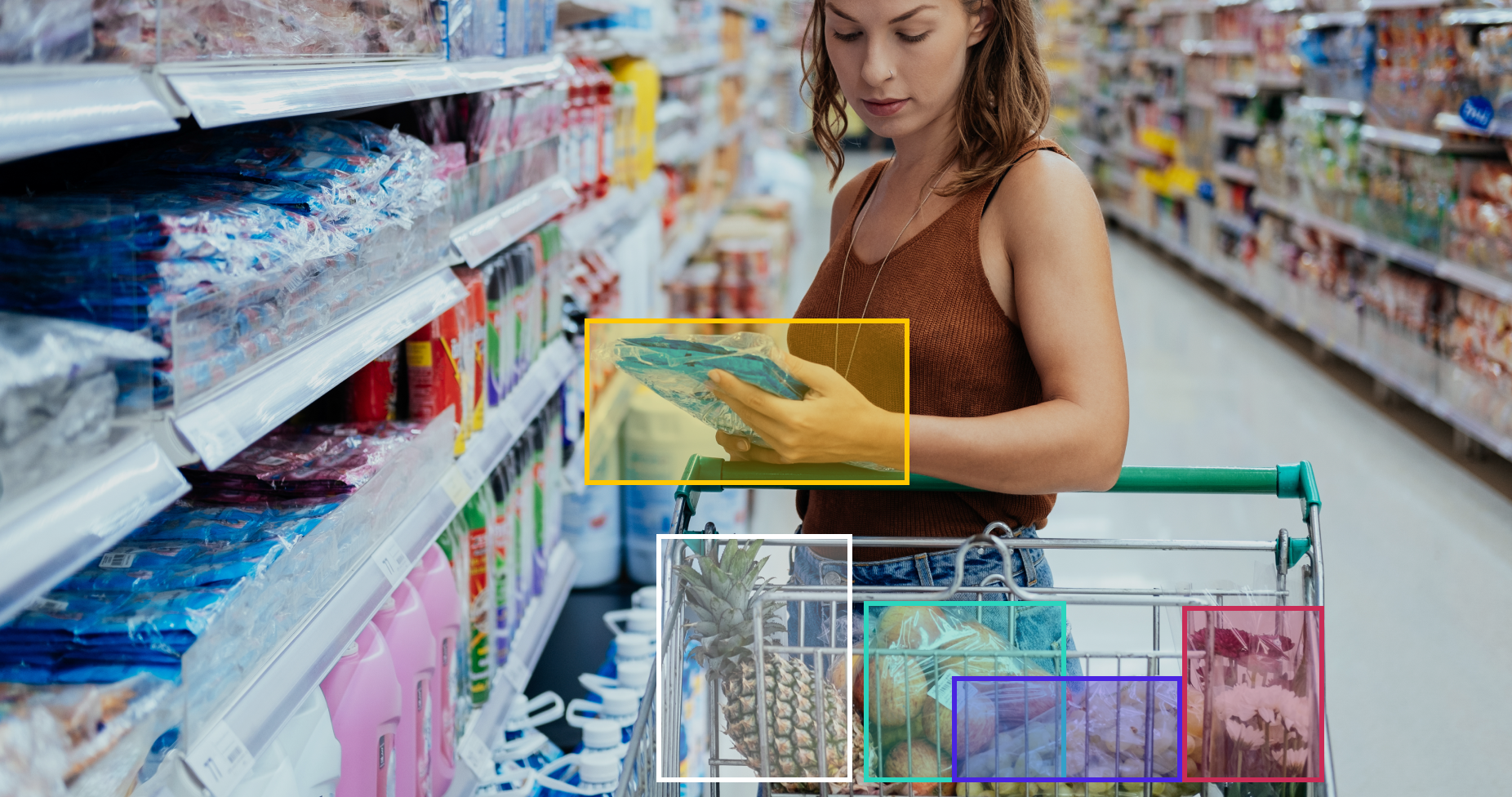 The world of shopping is becoming more and more digital. And while that doesn't mean brick-and-mortar stores are going away anytime soon, they need to adapt. Customers are looking for new and improved in-store experiences that prioritize speed and safety. A recent survey by Visa highlights some of the biggest changes and trends the retail market has experienced in the past few years:
82% of small businesses have adjusted the way they operate their business post-pandemic.
65% of consumers prefer to use contactless payments as much as, or even more than, they are currently.
85% of customers expect digital payment options when they shop in person.
75% of small business owners expect consumers to prefer contactless payments as much as, or more than, they do now.
Contactless shopping services like having grocery and food orders dropped off at your door, ordering online for curbside pickup, and self-checkout have been steadily growing in popularity. Even the Harvard Business Review predicts the rise of "contactless commerce" in the next few years. The world is moving towards a new way of in-person shopping with contactless technologies.
The ultimate goal of contactless shopping solutions is to create an autonomous and frictionless customer experience that matches the convenience of online shopping. The recent pandemic has only accelerated the adoption of these tools, and we now have the technology to greatly improve the contactless shopping experience on a larger scale.
How Does Contactless Shopping Work?
While contactless shopping is still in its early stages, it has the potential to revolutionize the way we shop. In the future, we will see more retail businesses offering contactless shopping as a way to improve customer satisfaction, drive revenue, and reduce costs.
Contactless Shopping Technology
Self-checkout as it typically exists is only a rudimentary form of contactless shopping. The next generation of self-checkout introduces new innovations to make the process even more seamless.
The use of RIFD tags, NFC, BLE, mobile scanners, and pay-and-go computer vision (CV) systems represent a new era in the retail industry. Radio-frequency-identification (RFID) tags attached to every product contain all the information about specific products including pricing and inventory levels. Items can be scanned all at once and shoppers can pay through mobile apps or text messages. Shoppers can also opt-in to be tracked through vision systems as they enter a store or check in at a kiosk, so they can be charged for their items without waiting in line at all.
Frictionless Checkout With Computer Vision
Computer vision is a game-changing technology that makes completely autonomous shopping experiences possible. With sensors and cameras powered by AI, shoppers simply pick items off a shelf and build a 'virtual' shopping cart. Some touchless grocery systems even allow shoppers to simply walk out of the store, automatically charging the bill to their linked account. They also have the option to walk up to a kiosk and quickly pay with a card or mobile device.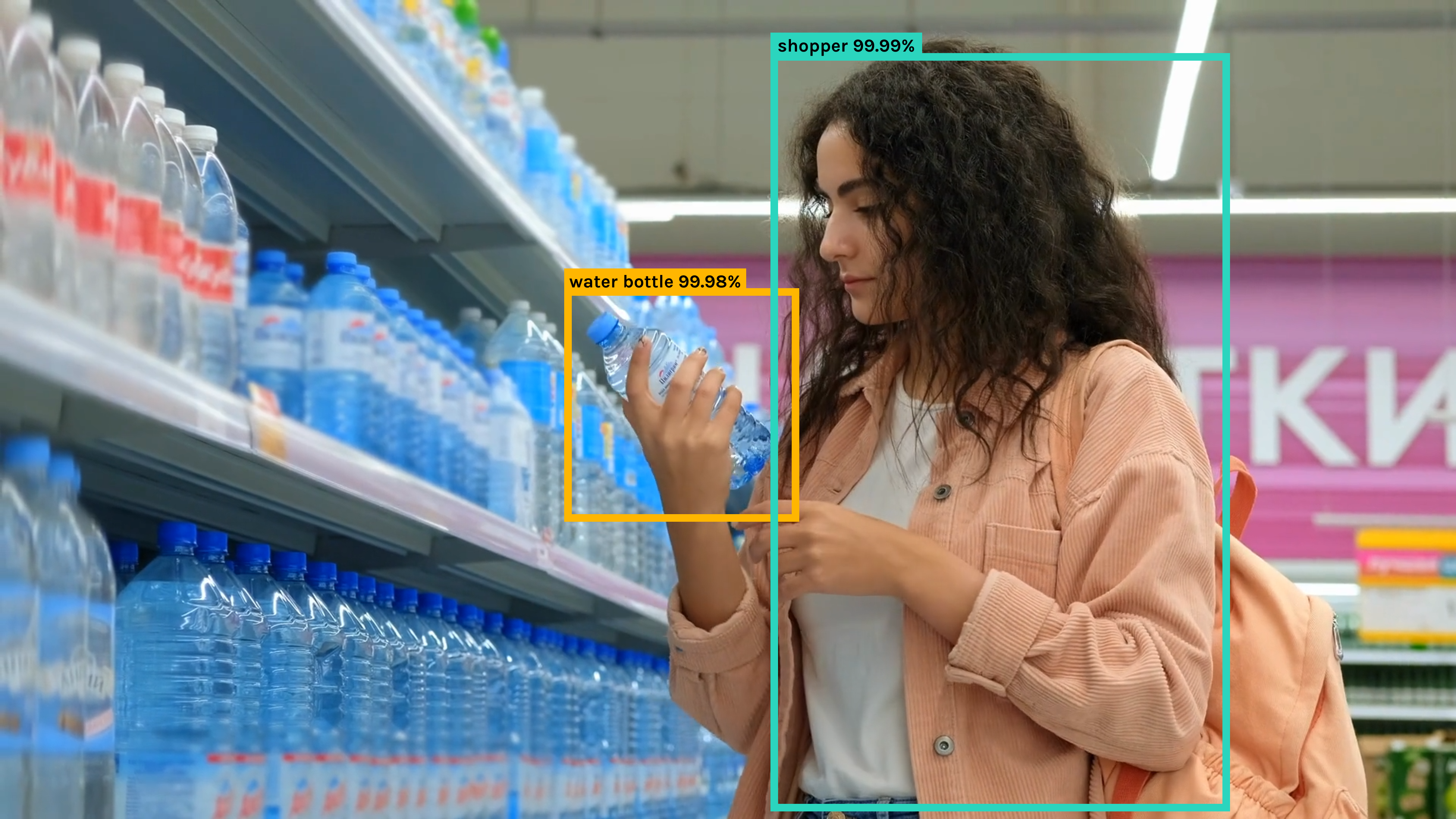 This computer vision retail infrastructure relies on sophisticated AI and machine learning systems. Essentially, deep learning computer vision models are trained to detect objects in a store and track their movements. They even accurately detect if items are put back on a shelf or picked up from a non-standard location.
POS Upgrades, a leader in payment solutions has selected alwaysAI as its computer vision partner for frictionless self-checkout. Click here to learn about our partnership!
The Benefits of Computer Vision for Contactless Shopping
There are many benefits of using computer vision for contactless shopping. CV technology can help retailers eliminate the biggest brick-and-mortar pain points and redefine what it means to shop in person. A computer vision platform offers a cost-effective way to integrate the AI-enhanced retail experience into existing store infrastructure. Computer vision on the edge is the cheapest, most flexible way to offer seamless in-store experiences by introducing autonomous checkout, contactless capabilities, and unprecedented efficiency and accuracy at every stage of the customer journey.
Learn more about computer vision in retail as a powerful tool for customer analytics.
Increased Customer Satisfaction 
Contactless shopping offers a more convenient and satisfying experience for customers. It creates a more streamlined and engaging shopping experience by quickly detecting when customers need help - speeding up lines and check-out times. CV can even improve safety monitoring by instantly reacting to emergencies. CV can provide more customized shopping experiences by creating dynamic displays that change depending on who is browsing products or walking past a display.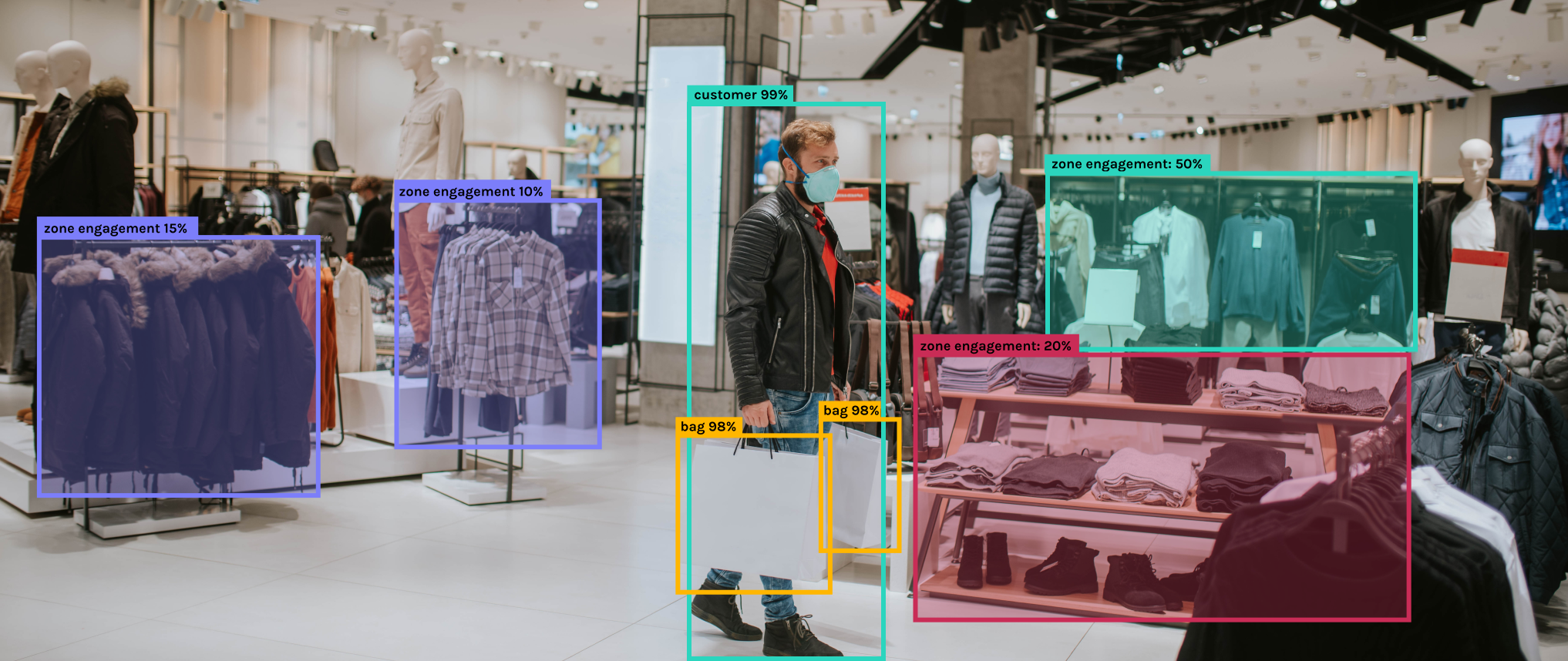 Reduced Costs 
Contactless shopping helps businesses reduce costs associated with inventory management and product returns. Computer vision empowers retailers to do more with less by improving critical functions like inventory and shelf management, data collection, and payment processing.
CV provides real-time data on inventory levels and can alert workers when shelves need to be restocked or if there is a product issue.
With fewer cashiers needed, employees can be relocated to other positions to assist customers.
The amount of space dedicated to checkout stations can be reduced, increasing room for products.
CV improves loss control and prevents theft. It's more accurate than humans at monitoring the self-checkout area for potential threats and issues. 
Increased Sales
Contactless shopping has incredible potential to increase sales. CV brings more predictably to inventory needs and provides mountains of useful customer data. Retailers can better understand in real-time what products are selling, how well promotions or featured products are doing, and if the products customers want are in stock. CV even offers insights on product placement and where the most highly trafficked areas of a store are. This gathers valuable data on whether specific displays are getting traffic, and what products are the most popular. 
Increased Productivity
In addition to the advantages CV brings for customers, it also addresses critical challenges faced by retail employers and employees. Typically, retail employees spend a lot of time trying to track down products that customers could find on their own with the right technology. They often have to juggle multiple requests and tasks at once, which can lead to a frustrating customer experience. 
Contactless shopping enables employees to focus more on productive tasks that improve the consumer experience. They can spend their time only helping shoppers who require or prefer employee assistance. This resolves some of the pressures from labor shortages in the retail sector. Stores can even stay open at off-peak times with limited or no employees. This opens up the opportunity to run a truly 24/7 brick-and-mortar business. 
Considerations for Contactless Shopping Success
Despite the many benefits of computer vision for contactless shopping, there are some challenges and concerns that must be addressed for successful implementation. 
Check out our work with Doorcounts and DTiQ!
Privacy Concerns
Customers and regulators are increasingly demanding more digital data protections. Some customers might be uncomfortable with their every movement being tracked and want to know where that data is going. This concern is even more pressing if personally identifiable information is being collected. 
Privacy technology must be incorporated into computer vision systems to allow for opting out of sensitive data tracking. Frictionless checkout is still possible with added facial blurring technology to obscure customer faces who have opted out.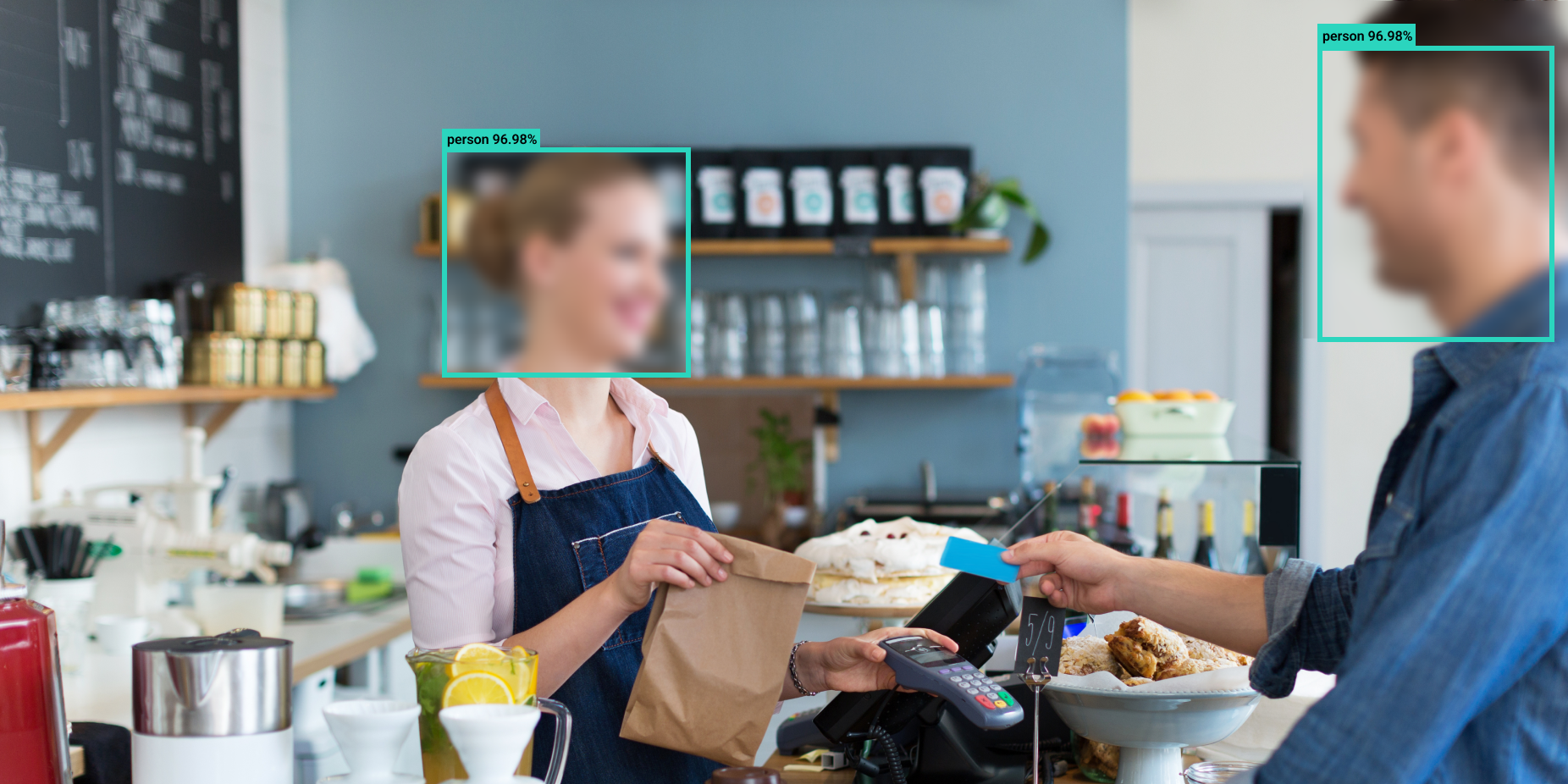 Customer Experience
Customers are used to the ease and personalization of online shopping. They want an in-store experience that matches that convenience but with the expertise and customer service that comes with brick-and-mortar stores. Computer vision allows store managers to develop unique shopping experiences for their customers. It creates more options and flexibility for customers to shop and pay how they want to.
Customers ultimately want great service and speed. CV contactless solutions greatly enhance both if implemented correctly.
Flexibility
The cost to implement contactless shopping may seem prohibitive for some businesses - especially for systems that require upgrades like shelf sensors. But a computer vision platform offers one of the quickest, cheapest paths to adoption. It's also the most flexible solution that can adapt to changing business needs.
Some of the most vital benefits of a computer vision platform for this use case are:
It offers an easy-to-build and flexible system for contactless shopping. 
It integrates into existing store infrastructure or requires minimal deployment onto additional edge devices.
It doesn't require retailers to add sensors to shelves or individual products.
There's no need to rearrange the existing store layout or shelves to accommodate this new way of shopping. The CV system seamlessly tracks each object anywhere in the store.
Computer vision on the edge doesn't rely on complicated cloud computing solutions that need regular IT upgrades. Edge devices process data locally, which is less expensive and faster. Edge CV applications allow for instant alerts and real-time actions to accommodate customer and store needs.
Customer Analytics
To gain maximum return-on-investment (ROI) from contactless shopping and computer vision, retailers need to look beyond just speeding up checkout. We now have access to big data applications that keep track of the entire customer experience from the moment someone walks in the door. CV helps retailers gather real-time data on customer behavior, store operations, and conversion rates. This reveals important information about the customers, including what brands they like and which parts of the store they are most likely to explore. This information can be used to create better products, campaigns, and services for existing and potential customers. Once every corner of the store has been optimized, retailers are able to achieve a better ROI.
Watch this video to learn how alwaysAI helps enterprises across multiple industries maximize their ROI:
How alwaysAI Can Help Accomplish Your Retail Goals
alwaysAI can improve your customer experience and sales with CV contactless shopping applications. With alwaysAI, you get an easy-to-use, data-driven solution that empowers you to reach your retail business goals.
alwaysAI provides developers and enterprises a comprehensive platform for building, deploying, and managing computer vision applications on IoT devices. We make computer vision come alive on the edge - where work and life happen. The alwaysAI platform offers a catalog of pre-trained models, a low-code model training toolkit, and a powerful set of APIs to help developers at all levels build and customize CV apps. alwaysAI can help you quickly, securely, and affordably implement CV contactless shopping into your business.
Schedule a demo today to learn more about how alwaysAI can help you reach your retail business goals.
Download our guide: Learn How to Automate Your Business With Computer Vision for more useful information!