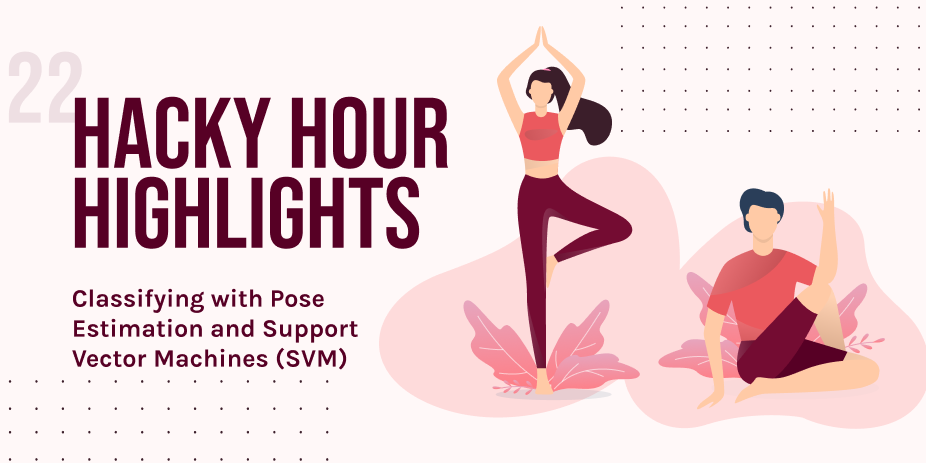 What is Human Pose Estimation?
Human Pose Estimation is a computer vision technique that analyzes the human body using key points such as knees, hips, wrists, and neck. This technology can significantly impact the analysis of human activity and aid in the development of applications such as AI-based fitness trainers, human gait-analysis, assisted living applications, and more. For this Hacky Hour, Eric VanBuhler, the Principal Software Architect at alwaysAI, demonstrated how developers can develop a Yoga trainer using techniques to classify poses with human pose estimation and support vector machines.
Developing The Application
For this Hacky Hour, Classifying with Pose Estimation And Support Vector machines, Eric developed a model to classify the Tree Pose, Revolved Triangle Pose, and Warrior Pose 1, 2, and 3. Eric used the following key points to develop the application; neck, shoulders, wrists, hips, knees, and ankles. He purposely left out the eyes and the ears as they were not necessarily relevant for this particular application. 
Click here for the GitHub repository of this Hacky Hour.
Guest Questions
QUESTION: In the CSV file, are the values the actual angles in degrees?
ANSWER (Eric): The values in the CSV file are the X, Y coordinates of the points that were detected.
---
QUESTION: Is it possible to modify the front-end of the streamer?
ANSWER (Eric): The alwaysAI streamer is a visual debugging tool. I would encourage looking at Dash by Plotly, which is a fully customizable dashboard for your app.

---
QUESTION: Did you use the Human Pose Estimation model to get the coordinates from the images?
ANSWER (Eric): Yes, we used the Onyx model. But you can try out the other pose estimation models on the alwaysAI model catalog depending on what FPS your application needs.
---
QUESTION: Why did you use a Support Vector Machine for this problem?

ANSWER (Eric): To build this out, I followed the guidelines from Sci-kit learn.
---
QUESTION: Is it possible to deploy multiple models with alwaysAI?
Answer (Eric): Yes! There's are some examples on the alwaysAI GitHub.
---
Watch the full Hacky Hour to learn how Eric built this computer vision application. 
Classifying with Pose Estimation and Support Vector Machines
Join us every Thursday at 10:30 AM PST for weekly Hacky Hour! Whether you are new to the community or an experienced user of alwaysAI, you are welcome to join, ask questions, and provide the community with information about what you're working on. Register here.