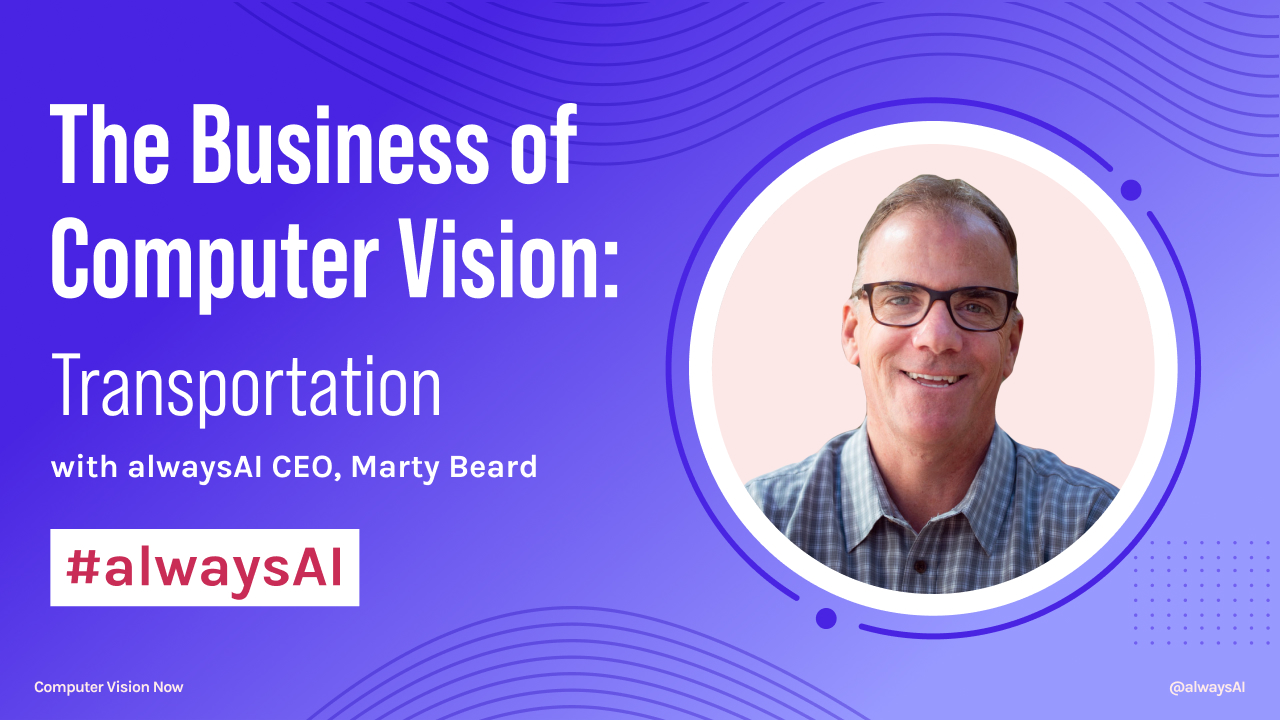 Follow along as alwaysAI CEO, Marty Beard, discusses how Computer Vision is driving us towards the future of transportation.
What Will Be the Future of Transportation?
According to a recent study, 75% of the world's population will live in cities by 2050. At that rate, cities will be over-crowded, and energy consumption and space will be at a premium. New modes of transportation are required. Computer Vision can provide the real-time data to help cities provide transportation that is safer, energy-efficient, autonomous, and more productive for the rider. The future of transportation is 'smart'. 
What is 'Smart' Transportation?
Smart transportation refers to an approach that incorporates modern technologies into transportation systems. This includes wireless communication, AI, computer vision, and other tools to enhance smarter mobility. Smart transportation makes it possible to improve in-cabin monitoring, optimize passenger flow, and bolster security and fleet manager liability across a wide variety of vehicles. 
There are a plethora of transportation modes, including: 
Electric vehicles (EV)

 

Autonomous vehicles (AV), both private and public

 

"Micromobility": e-bikes, e-scooter, e-mopeds, etc.

 

Autonomous mobile robots (AMRs), for delivery and assistance, etc.

 

And even Autonomous Vessels like boats, ferries, ships, etc.
These new modes offer clear advantages - and fit better - with the emerging future and its need for cleaner, more efficient mobility.
For example, did you know that 29% of US gas emissions come from transportation? Electric vehicles are changing that. Did you also know that cars can take up to 50% of the available space in dense cities? With micromobility options such as e-scooters and e-mopeds, space and energy can be conserved. For example, you can park 12-e-bikes in a single-car spot. Smart transportation is not just a theory for the future; it is being implemented today in several cities powered by Computer Vision capabilities. 
How Does Computer Vision Help inside and outside the vehicle?
Computer Vision is at the center of all this new/smart transportation. Edge CV helps in all aspects of smart transportation, inside and outside the vehicle. Sensors and vision are critical to really make transportation smart. Inside the vehicle, Computer Vision enables stakeholders to gain analytics and real-time data about what's happening inside the cabin, improving the safety and security of public and private modes of transportation.  Outside the vehicle, stakeholders can also use Computer Vision to create smarter real-time options for drivers and passengers.
Benefits of using in-cabin monitoring: 
Real-time alerts on driver/pilot/captain fatigue, distraction

 

Liability protection of drivers and fleet managers

 

Real-time health emergency detection

 

Crime prevention and mitigation

 

Regulatory compliance, audit, and legal protection

 
How Computer Vision helps outside the vehicle:
More robust, real-time data for route optimization and safety 

Pedestrian safety
Lane departure and sidewalk detection

More real-time, surrounding information

 

Help riders make the right decisions

Provide information to passengers about their surroundings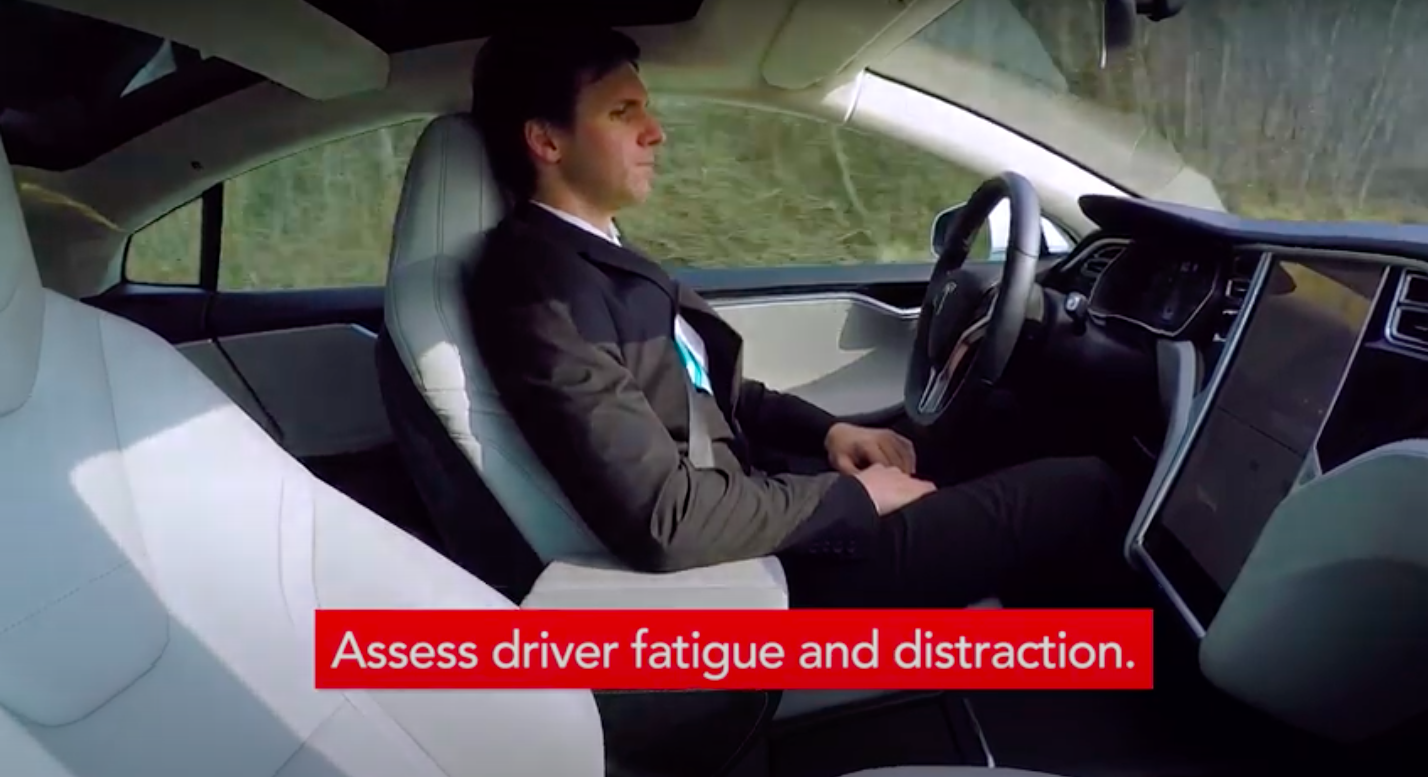 alwaysAI Provides Enterprises with a Platform to Leverage Smart Transportation Solutions
alwaysAI's cutting-edge development platform enables enterprise developers to prototype, implement, and deploy Computer Vision applications onto IoT devices at scale.  We provide easy-to-use starter applications to get going quickly, then customize for your specific use case. Leverage alwaysAI's end-to-end development platform to build, train and deploy CV applications for in-cabin monitoring, navigation, fleet management, passenger flow, and drive new revenue-producing information today. Customers leverage insights gained through the use of the alwaysAI platform and our model catalog to make effective business solutions. This is quickly becoming a best practice for all industries and essential to achieving a competitive advantage in the years ahead. Make advanced AI easy for your organization. Register for free to get started today, or schedule a demo and talk to our Computer Vision experts about your business.
We can't wait to see what you build!
See below for the full video, or click here.
---
About alwaysAI
alwaysAI provides developers and enterprises a comprehensive platform for building, deploying and managing computer vision applications on IoT devices. We make computer vision come alive on the edge - where work and life happens. The alwaysAI platform offers a catalog of pre-trained models, a low-code model training toolkit, and a powerful set of APIs to help developers at all levels build and customize CV apps. alwaysAI has an easy deployment process and a state-of-the-art run-time engine to accelerate computer vision apps into production quickly, securely, and affordably.
If you haven't already registered in alwaysAI. Please do so! It's super easy to sign up just follow the link and get building and coding quickly.