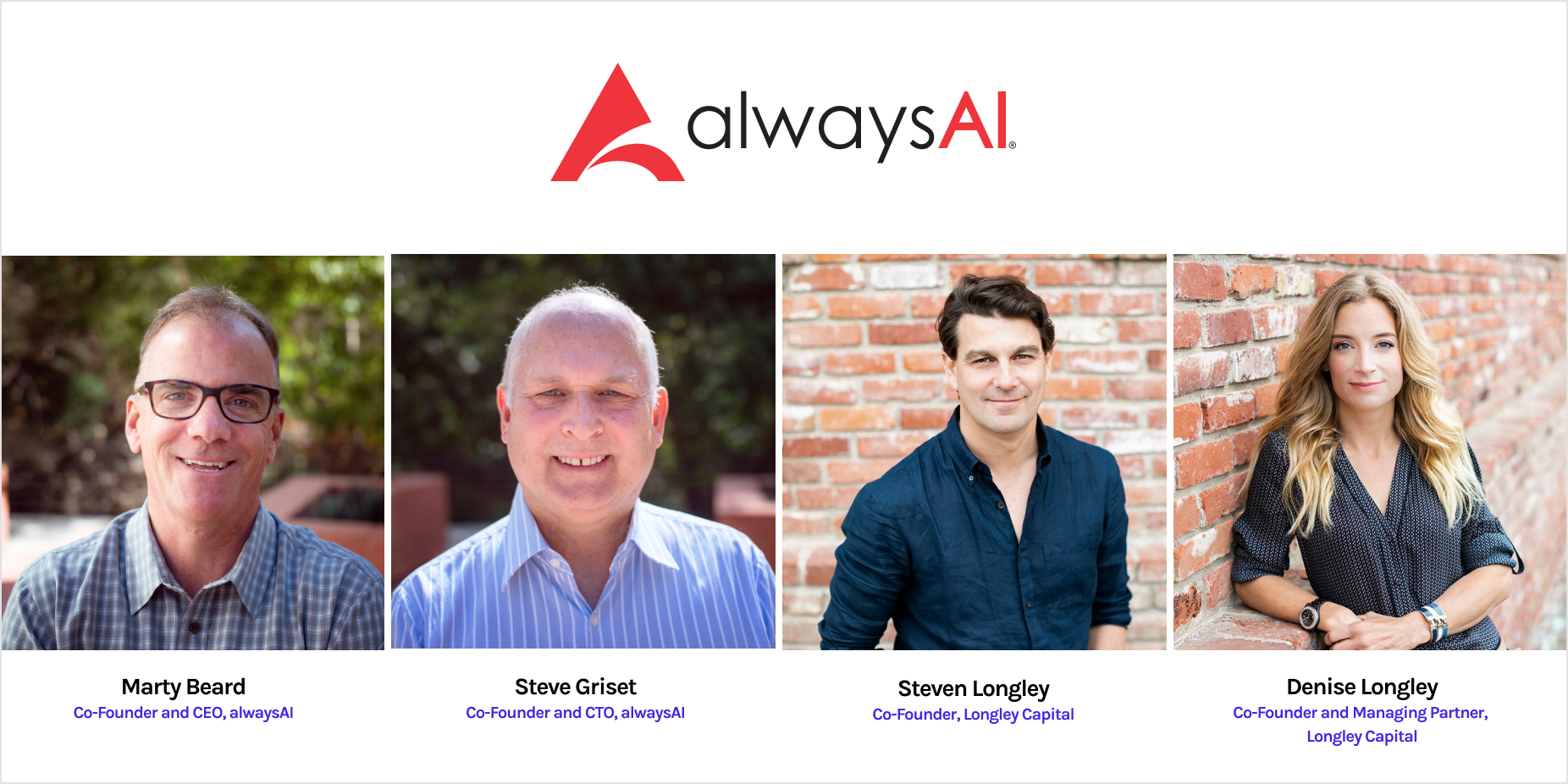 SAN DIEGO, CA — alwaysAI continues its strong momentum, raising an additional 7 million dollars in its recent Series B. The round included investors from Longley Capital, BlueRun Ventures, Validus Growth Investors, and the alwaysAI CEO, Marty Beard. 
Founded in 2018, alwaysAI has now raised over $16M in support of its industry-leading computer vision (CV) platform. CV is one of the fastest growing segments of the enterprise AI marketplace, and alwaysAI is at the forefront – bringing intelligent CV capabilities to an enormous installed base of existing cameras and IoT devices. This latest round also highlights the depth and breadth of the rapidly growing San Diego tech scene.
alwaysAI's proprietary platform enables companies to make smarter business decisions in real-time, improving their top and bottom-line performance. The platform enables enterprises to integrate CV software into their existing cameras and edge devices, reducing complexity and expense. CV is quickly becoming a 'must have' across a wide variety of industries including retail, manufacturing, construction, and transportation.
"We see enormous interest in computer vision and how it can drive new value for enterprise applications and developers - it makes AI and IoT come alive in the real world." 

Marty Beard, Co-Founder and CEO of alwaysAI
Bringing the power of deep-learning CV to existing edge cameras allows businesses to quickly gain unprecedented insights into their customers, facilities, and supply chains - helping managers boost product quality, operational efficiency, and sales. With this new infusion of capital, driving even more innovation across its industry-leading platform, alwaysAI is demonstrating that CV does not require expensive new infrastructure, but unleashes huge new value-add out of existing networks and edge devices.
alwaysAI's end-to-end platform is built to provide easy access to this game-changing technology. All companies can now quickly build and deploy CV applications on the edge. With a deep catalog of pre-trained models, easy-to-use model training toolkit, extensive set of APIs and pre-built apps, support for a huge array of edge devices, and real-time analytic dashboards, alwaysAI fundamentally simplifies the way developers create, deploy, and manage computer vision applications on IoT devices.
alwaysAI is headquartered in beautiful Cardiff-by-the-Sea, a lively beach town nestled in northern San Diego. San Diego is rapidly emerging as one of the most innovative, dynamic hubs for start-ups and venture capital firms. According to Connect, San Diego venture capital investment exceeded 8.38 billion in 2021, a 60% increase from 2020. alwaysAI's passion and progress in the CV field only adds to this growing culture of excitement. 
"At Longley Capital, we are leading the way in San Diego, working with innovative, forward-thinking businesses. We invest in meaningful companies at the forefront of emerging technologies, nurturing their success every step of the way. Marty and the team at alwaysAI represent everything we value in our companies."

Steven Longley, Managing Partner of Longley Capital
alwaysAI intends to use the funds from this round to increase its go-to-market footprint, establish new channel relationships, and continue to innovate across all parts of its market-leading platform. The company is also looking to grow its incredible team (alongside the new office expansion!) and is hiring for several roles. alwaysAI is proud of its welcoming atmosphere that invites collaboration, innovation, and critical thinking, and is thrilled to see how the company evolves over time!