Finding the Right Model with the New alwaysAI Model Catalog
With the new alwaysAI model catalog, you can now search for a computer vision model by specific criteria; for instance, you can search by label to ensure that the model includes a label for the type of entity that your application needs to be able to recognize. You can also search for a model that is compatible with the kind of service that you want your application to provide (object detection, image classification, or pose estimation), and then further refine your search with filters for the inference time, framework, license, and data set of each model.
The alwaysAI model catalog currently includes 47 pre-trained models, and this advanced search capability greatly simplifies the process of finding the right model to use in your application. 
Here is an example of how you can refine by category, such as "classification" and search by label, such as "finch".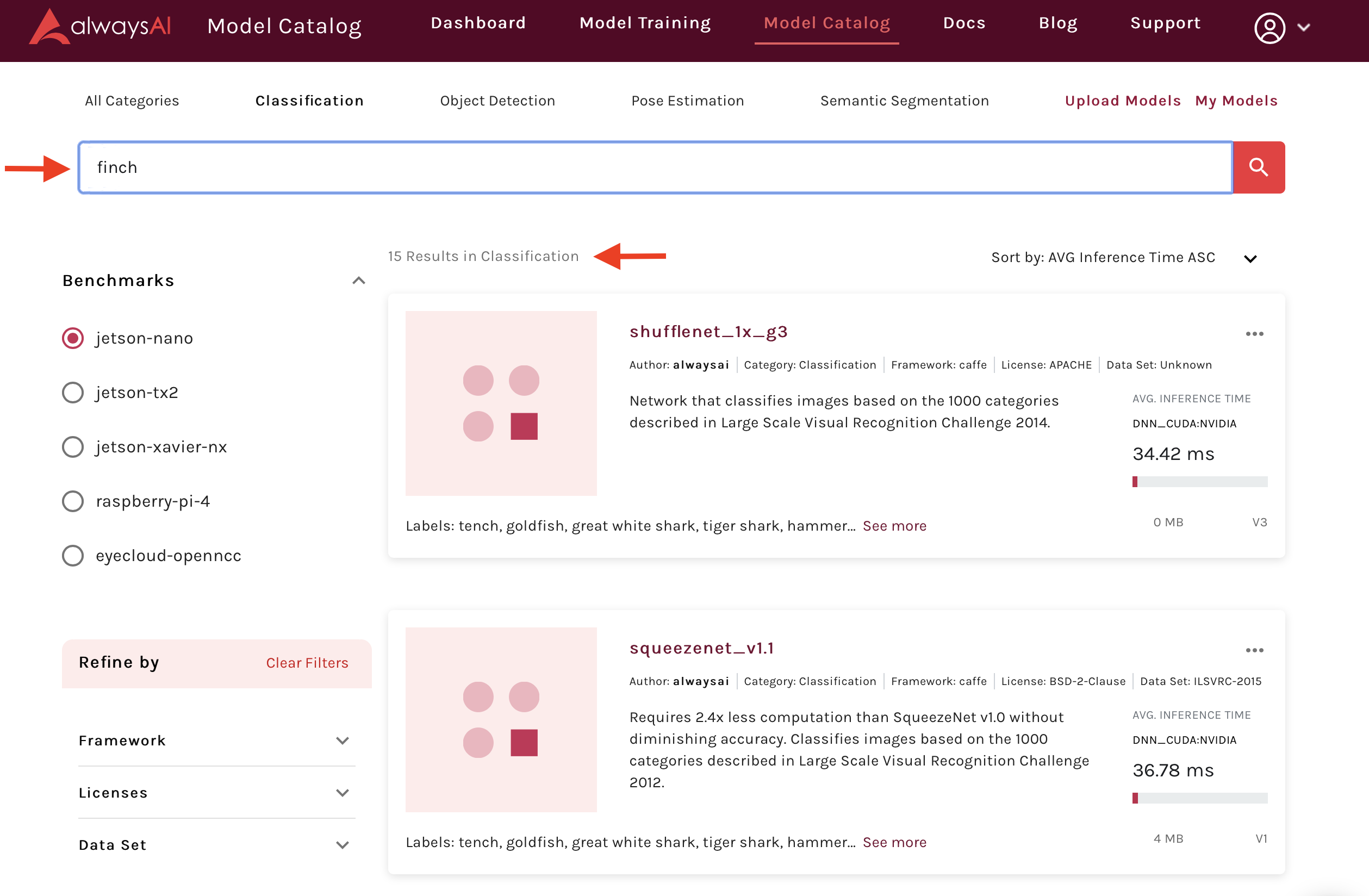 Visit the model catalog to get started.
About alwaysAI
alwaysAI provides developers an easy-to-use platform to quickly build and deploy deep learning Computer Vision applications on "IoT" devices like cameras, drones, wearables, robots, and transportation units. The final goal of alwaysAI is giving devices  'intelligent sight' and enable them to autonomously make smart decisions in real-time.
alwaysAI is located in San Diego, with our headquarters in the beautiful Solana Beach neighborhood. We leverage San Diego's incredible intersection of mobility, big data, and neuroscience communities – all critical to the future of artificial intelligence and computer vision.
Using the alwaysAI platform to run a CV application on an edge device generates up to 12X in annual cost savings - as well as speed and privacy benefits - over the cloud.
Contact
contact@alwaysai.co
420 Stevens Ave #270
Solana Beach, CA 92075
Get Started Now
We are providing professional developers with a simple and easy-to-use platform to build and deploy computer vision applications on edge devices.